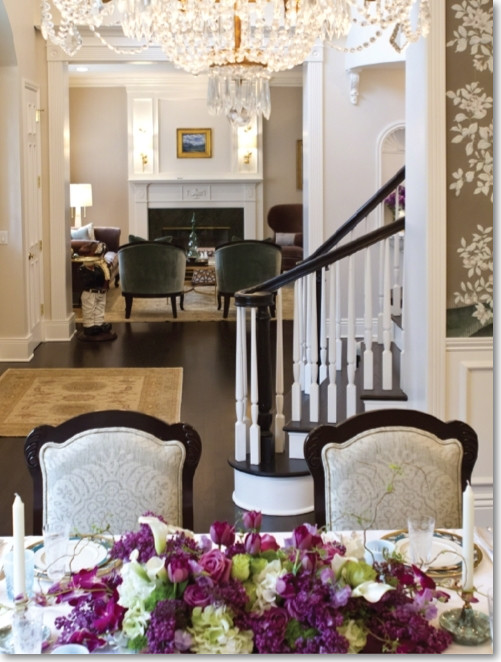 http://article.homebydesign.com/pages/article/HBD_APR_14_09/255186/index.html
Anything's possible when you have clients with a vision and the right designer to guide them—especially when you add some tight deadlines into the mix. Just ask Charmean Neithart, interior designer and owner of Charmean Neithart Interiors in San Marino, California, who made the magic happen for a soon-to-be-wed couple who needed their home refurbished in a hurry.
"They were motivated," explains Neithart. "Their goal was to get everything done because they were getting married." The designer was brought on in August of 2011 to have the main level finished in time for her clients to host Thanksgiving dinner later that year. The next phase required the second floor to be ready for overnight guests that would attend the couple's spring wedding.
The three-story, roughly 6,000-square-foot Colonial was rather grand. "We wanted to 'deformalize' the house," says Neithart, who lives in the same neighborhood as her clients, Ezra and Marisa Callahan. "They literally had nothing. Some people say that and really have some furniture. [fusion_builder_container hundred_percent="yes" overflow="visible"][fusion_builder_row][fusion_builder_column type="1_1″ background_position="left top" background_color="" border_size="" border_color="" border_style="solid" spacing="yes" background_image="" background_repeat="no-repeat" padding="" margin_top="0px" margin_bottom="0px" class="" id="" animation_type="" animation_speed="0.3″ animation_direction="left" hide_on_mobile="no" center_content="no" min_height="none"][But] we had to fill it up and take away the formality."
Neithart prefers contents that look like they were acquired over time. "There's a sophistication to acquiring, but with a new couple that can be a bit tricky," says the designer. "When a house is done, I like to step back, take a look, and see things that mean something to [the homeowners]." Here, she incorporated some pieces from their childhood homes along with art from their travels.
Despite their youth, the Callahans (who met when they worked at Facebook) were drawn to more traditional trappings, which came as a bit of a surprise to the designer who opted for a less formal interpretation with a British Colonial aesthetic. "We took out the formality of the Federal Colonial with fabrics, color, even furniture," she says. For instance, the faux bamboo bed in the master bedroom and an antique British Colonial bench that punctuates the staircase landing. Sophisticated but fun palettes like blush, plum, and turquoise were paired with traditional furnishings. "We really ended up in the middle," says Neithart.
The designer turned a blank wall between the family room and the kitchen into a wine wall. "Both are avid wine drinkers," says Neithart. She covered the wall with burlap paper and wine racks made from old wine barrels, and added a ledge to make it feel like a tasting bar. Because the homeowners love to entertain, they wanted the dining room to be special and more formal than the rest of the home; hand-painted, custom-cut wallpaper from Gracie sets the elegant tone in that space.
Except for the sideboard, all of the dining room furniture is custom, including the table and chairs that were designed by Neithart. "I have wonderful craftsmen. I will go and watch them carve," says the designer, who added a new mahogany top to antique carved legs from another table for a look she calls semi-antique.
The reflection of the Italian crystal chandelier in the antique gold-leaf mirror was no easy feat. "It was really tricky to get the placement right with the existing fireplace. I had to do a little bit of hocus pocus, but we made it work and everybody was happy," says Neithart. The designer prides herself on being able to find unique pieces for her clients, like she did here with the distressed mirror on the wall and the amethyst lamp on the sideboard. Silk draperies complement a vegetable-dyed Persian rug. "I love colors that are sort of in-between, like a plum tone with a bit of gray in it," says Neithart, who threw a bridal shower for Marisa at the house and gave her the tabletop items as gifts. "They were fabulous clients. I wanted to do something special for them. We also wanted to break-in the dining room."
Although this project was jumpstarted by one joyous occasion, the celebrations seem to keep coming for the Callahans. "It was a really fun year [with] a whole bunch of landmarks [and] we made it," says Neithart. "We did all of it and then she got pregnant on their honeymoon and they had a baby. They were so much fun and the easiest clients. [They] were open and agreeable and made decisions really fast."
And considering their rapport, it's no surprise that Neithart credits the couple with the success of the project. "[My design] can only be as good as my client allows it to be," she says. "Somebody has to approve everything and trust the process. These were clients that trusted the process. That's when magical things happen."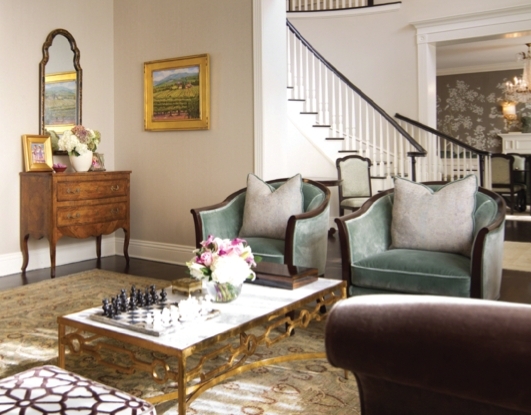 [/fusion_builder_column][/fusion_builder_row][/fusion_builder_container]