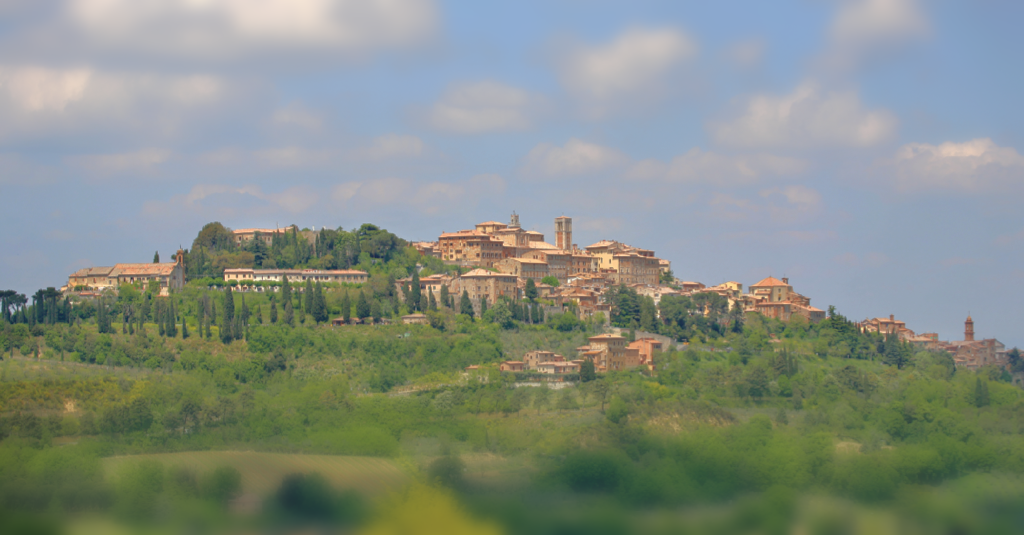 http://article.homebydesign.com/pages/article/HBD_APR_14_06/255186/index.html
Thinking about a trip to Italy? Montepulciano, Italy would be a great destination. With panoramic Tuscan views and history of wine making, this "place on earth" is a location that should be on your bucket list.
"Wine should never be influenced by trends because wine is a long process . . . like life," a Montepulciano, Italy vintner told me, explaining why he refuses to irrigate his vines even during a drought. Traditions are important in this Tuscan hill town that's built on a limestone ridge. Located a couple of hours southeast of Siena, there is evidence Montepulciano was known for its wine dating back to the 700s, when it was dubbed Vino Nobile or wine for nobles.
Wine is such an intrinsic part of life here that the Renaissance-era buildings in the Piazza Grande (the town square) represent what could be deemed the city's holy trinity: government, the Catholic Church, and wine! Known as the Pearl of the Sixteenth Century, Montepulciano earned this nickname largely because its piazza looks the same as it did during the Medici dynasty. And it has a remarkable number of other architectural riches. The piazza is banked by several major treasures: the Nobili-Tarugi Palace, designed by the renowned Italian architect Sangallo the Elder; The Cathedral of Santa Maria Assunta, or the Duomo of Montepulciano; and the Palazzo Comunale (the town hall), where you can climb to the top for a panoramic view of red-tile roofs leading to rolling hills of vineyards.
If the photos look familiar to you, they probably are. The area has been immortalized in films such as The English Patient, Under the Tuscan Sun, and most recently, The Twilight Saga: New Moon. Directors like the fact that this walled city remains virtually unchanged since medieval times.
Most people enter the piazza by walking up the winding main corso (street), because cars are not allowed in the historic city center. Fortunately, there are plenty of places to stop and rest along the way, including the Maledetti Toscani leather shop, which is touted as the oldest shop in Montepulciano. Wandering along the cobblestone street is like visiting a living museum. You can see a mother and son hand weaving scarves, a jeweler welding a fleur-de-lis (the Florentine symbol), and venture through centuries-old underground wine cellars that once connected to the main palace.
To protect and promote the city's wine culture, local winemakers formed a consortium, Consorzio del Vino Nobile di Montepulciano (consorziovinonobile.it), and opened a tasting room in the piazza. The consortium has also been a sponsor for the annual Bravio celebration of—what else? —wine. The Bravio is a competition and a showcase for the eight Contradae (districts or neighborhoods). Every August, the event culminates with the barrel race where young men, each sporting jogging shorts in the colors of their district, roll heavy wooden wine barrels up steep cobblestone streets, past cheering fans.
Montepulciano has only about 14,000 residents, but surprisingly there is enough to see and do for several days. Stay a few days in town at a hotel and then escape from the crowds to a villa. Don't worry about being in the countryside—most everyone speaks English. Staying in a villa provides a great opportunity to make friends with locals, who often have vineyards on their properties. If you ask, they'll be happy to teach you how to make pici. Similar to thick spaghetti, pici is made with just flour and water (and occasionally an egg depending on the family recipe), rolled with the palm of your hand on a wooden table, and served with a spicy tomato garlic sauce. They will be sure to have olives plucked off the trees in their backyard. And if you're lucky, they may be serving salami or pastrami made from the Cinta senese, a local wild boar that is considered a delicacy.
You can visit Napa, France, Spain, South Africa, and other notable wine regions around the globe and you will taste some great wine. But if you want to experience the rich history of people who have lived with their terroir, you must visit Montepulciano. "Wine is like life," one vintner told me. "You make a bad decision and you have to live with it for years to come." Instead, make a good decision and visit Montepulciano, Italy.