http://article.homebydesign.com/pages/article/HBD_APR_14_07/255186/index.html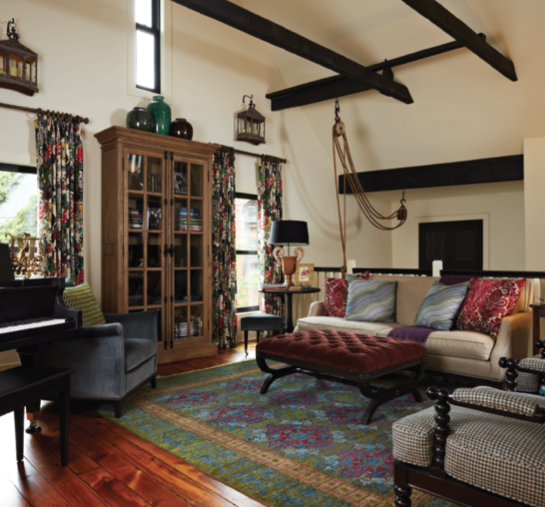 Preserving historical architecture may be the right way to go, but that doesn't mean you can't breathe new life into an old soul. That was the approach taken by Jen Ziemer, interior designer and co-owner with Andrea Dixon of Minneapolis, Minnesota-based Fiddlehead Design Group, when it came time to design her one-time home.
Ziemer's St. Paul, Minnesota residence, a carriage house that dates to 1893, has such a unique history that it originally served as a stable livery. Though the structure had been restored before she and her husband bought it, that didn't stop the designer from adding her distinctive personal stamp.
Many of the original features stayed intact, including the wood floors on the main level and the wood ceilings and beams that were painted black by the previous owners. A barn door speaks to the site's origins while quirky details like a pulley, though not original, lend charm to the striking interiors.
"Nothing is level, which adds to the authenticity. It's just such a cool place," says Ziemer, who describes the architecture as farmhouse style. The 3,500-square-foot home boasts four bedrooms, four bathrooms, a living room, family room, and loft space. It also includes a laundry room, an attached garage, and features central air.
Though Ziemer purchased new furnishings for the home, she made sure that they could easily pass for older pieces; the designer didn't hesitate to lift the interiors to new heights. "They're very layered and eclectic. It's still a modern farmhouse in that regard," says Ziemer, who introduced an equestrian theme along with some nods to nature.
She approached the aesthetic in a respectful yet playful way that shows a historical structure can serve as a modern-day dwelling while honoring its roots. Birds, owls, bunnies, and more, appear in fabrics and artwork. "We have young kids, so I wanted it to be fun and whimsical," says Ziemer. "It felt like you were in a tree house when you were on the second floor."
Tall window treatments and wall-mounted lanterns fill the negative space left by the high ceilings in the family room. "I love color and strong contrast," says the designer, who introduced a splendid mix of patterns throughout, that pop against the preexisting black wood details.
Cheerful wallpaper in the master bedroom blends a traditional floral motif with a fresh palette, once again mixing old and new in a refreshing way. The black wood ceiling creates a stark contrast, while the gray flannel upholstered bed lends a cozy vibe. The view outside the window shows another carriage house. "The whole area is just surrounded by amazing architecture," says Ziemer.
Houndstooth grass cloth covers the walls in the loft space, offering another modern interpretation of a classic material. Modern art punctuates the look while a traditional chair fabric and a white ceiling take it down a notch. "You need a place for the eye to rest," says Ziemer.
Small-scale subway tiles run vertically in the powder room for a change of pace. Woodsy wallpaper creates the perfect backdrop for a bunny watercolor done by a friend, and the old trolley cart and sink were installed by the previous owner.
The living room is visually quieter than the rest of the home. Neutral grass cloth walls set a subtle stage for the space that was primarily used for entertaining. "It was a little more traditional and subdued; a more formal space," explains Ziemer, who couldn't resist adding an unexpected green rug.
Though Ziemer has since moved out of the house to gain more indoor and mostly outdoor space for her family, she won't soon forget living there. The carriage house may no longer be the place they call home, but it has a permanent place in their hearts. "I am hoping we can buy it back again someday after the kids go to college," she says.